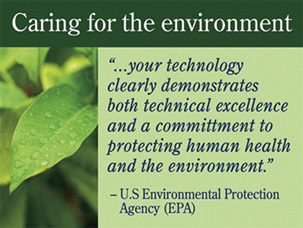 GLA has joined the club when it comes to going green by adopting a new style of water treatment. Green chemistry has become a forefront for many water treatment firms as the importance of protecting our environment has continued to grow in recent years. GLA understands this importance, which is why they chose to service their clients systems using EnduroSolv.
What is EnduroSolv?
EnduroSolv Water Treatment is the next generation of cooling tower and boiler treatment.
It not only provides all the benefits of traditional water treatment chemicals, but also offers many advantages such as for ease of use and for disposal. EnduroSolv is a water treatment paste in a jar the size of a commercial food container.

EnduroSolv is easier and safer:

No heavy drums to move
No pails of chemicals to handle
No chemical spills to worry about
No drum disposal issues
No exposure to hazardous liquid chemicals
Substantially reduce product handling issues
EnduroSolv is GREENER and qualifies a customer for LEED points.
NOTE: The 2009 LEED Reference Guide provides points for a management plan for Cooling Tower Water Management.